Flowers last 7 days or more

Handcrafted by artisan florist

100% satisfaction guaranteed

Same-day delivery to Dublin

Over 25 years in business
Are you looking for a florist in Tallaght to prepare a bouquet of beautiful fresh flowers? Do you need to arrange delivery of flowers to Tallaght? Not a bother! Our family-owned florist, Arbour Blooms, has over 25 years of experience in crafting the most exquisite flower arrangements delivered across Tallaght, South Dublin and, indeed, Ireland-wide. Our team would be delighted to prepare and send flowers to Tallaght Dublin 24 on your behalf – just order online here!
Flowers Tallaght - our best-selling bouquets
Every occasion flower deliveries Tallaght
From funeral flowers in Tallaght or special occasions to anniversary celebratory bouquets or get-well blooms… Let our incredibly passionate team create stunning bouquet arrangements for you.
Flower delivery Tallaght, Dublin 24
Do you need to deliver flowers to Tallaght, Dublin 24? If you're after something fabulous and fast, we can arrange same-day flower delivery to Tallaght. However, if time is less of an issue, then why not avail of our next-day service? Whenever you need them, we make ordering flowers easy and as cost-friendly as possible. Consider us your 24/7 flower shop in Tallaght – we're ready and waiting for your order!
For flower deliveries to Tallaght – and beyond!
Our local florist can arrange the most spectacular bouquets, gift baskets, and many other beautiful, thoughtful floral creations and gifts delivered anywhere nationwide. Wherever we go, we only deliver the truly best flowers created by a team committed to perfectly placing every petal. We aim for nothing less than superb! So whether you need flower deliveries in Tallaght or much further afield, rely on us for the best!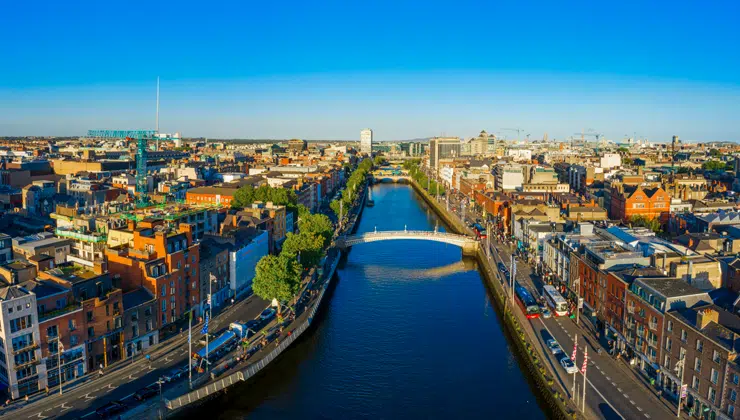 AnaRobert Balauca
2022-06-12
Absolutely stunning Peonies arrangement done by Agatha, as a surprise birthday present from my husband! Delighted to the moon and back! She is so artistic and uses the most elegant and healthy flowers I've seen. Highly recommended
Fidelma Bergin
2021-09-30
Received a beautiful bouquet of 12 long stem roses .
Ordered from Australia delivered to Tullyallen nothing was a problem photo sent when delivered just excellent service. Very greatful Helen🙏
I received a spary of flowers this morning by delivery I have to say that they where Done so so well beautiful no words needed I would highly recommend ❤
Always great for the special occasions. Staff are really nice and helpful and always give me great opinions on what too get.
Ordered flowers for Mothers day! They were such high quality and I will definitely be ordering from them again!
Catherine Murphy
2021-03-30
I received flowers for mothers day from Arbour Blooms Florist. Unfortunately they were damaged during delivery. I was contacted by a lovely guy from Arbour Blooms offering to replace the bouquet with a new one. I cannot fault their customer service. Thank you for the kind gesture.
Ordered flowers from the site. Found it easy and quick to navigate and the flowers were beautiful. They lasted days. Will order online again
Google rating score: 4.1 of 5, based on 55 reviews
Shop Now
Order Tallaght Flowers Online Now for Delivery Today
Flowers delivery Dublin Tallaght - Frequently Asked Questions
How much does it cost to send flowers to Tallaght?

Same-day delivery is €13.00, and next-day deliveries are €9.00. The total cost comes down to what bouquet you would like to order and when you would like it delivered. Rest assured, we maintain the most competitive delivery rates possible. Why not place your order online and see the delivery fee come up automatically at checkout? Alternatively, you can call our team and ask for an estimate over the phone – we'd be delighted to hear from you!
What is the cut-off for same-day delivery order flowers online?

For same-day flower delivery service to Tallaght and surrounding Dublin suburbs, you need to place orders by 1 pm Mondays to Fridays and by 10 am on Saturdays.
How can you guarantee Tallaght fresh flowers?

Because we've been in this industry for over a quarter of a century! Trust us when we say you cannot work that long in flowers by delivering anything less than perfect!
Contact us - your florist for Tallaght Dublin 24
For florist delivery to Tallaght by experts you can trust, order online or call our team today.
Subscribe To Our Newsletter
Receive offers and learn what's in and out in the flower world.
Scroll