Welcome to Arbour Blooms, the best online florist and home to a beautiful Skerries flower shop. Whether you come into our store in person or you're after our online flower delivery services, you can expect exquisite blooms and exceptional customer service. It's a genuine pleasure to look after you with all of our florist gift ideas. 
AnaRobert Balauca
2022-06-12
Absolutely stunning Peonies arrangement done by Agatha, as a surprise birthday present from my husband! Delighted to the moon and back! She is so artistic and uses the most elegant and healthy flowers I've seen. Highly recommended
Fidelma Bergin
2021-09-30
Received a beautiful bouquet of 12 long stem roses .
Ordered from Australia delivered to Tullyallen nothing was a problem photo sent when delivered just excellent service. Very greatful Helen🙏
I received a spary of flowers this morning by delivery I have to say that they where Done so so well beautiful no words needed I would highly recommend ❤
Always great for the special occasions. Staff are really nice and helpful and always give me great opinions on what too get.
Ordered flowers for Mothers day! They were such high quality and I will definitely be ordering from them again!
Catherine Murphy
2021-03-30
I received flowers for mothers day from Arbour Blooms Florist. Unfortunately they were damaged during delivery. I was contacted by a lovely guy from Arbour Blooms offering to replace the bouquet with a new one. I cannot fault their customer service. Thank you for the kind gesture.
Ordered flowers from the site. Found it easy and quick to navigate and the flowers were beautiful. They lasted days. Will order online again
Google rating score: 4.1 of 5, based on 55 reviews
Flower delivery Skerries
We offer a local florist delivery service around Skerries – our next-day delivery is particularly popular. However, we also deliver Ireland-wide, so just contact us if you need something further afield. Indeed, if you're searching "delivery florist near me", rest assured, we will be able to assist!
Wedding florist
Our favourite kind of event! Nothing brings us more delight than seeing a beautiful bride thrilled by her blooms. Over the years, our florist in Skerries has looked after many bridal parties, taking care of bridal bouquets, styling wedding venues and wedding cakes with spectacular blooms and stunning corsages for stylish guests. Hand-tied bouquets, seasonal flowers and even rare exotics are all popular choices, and we look forward to hearing more about your special day and how we can help deliver the dream experience.  Why not read our bridal testimonials to hear straight from our happy customers. 
Funeral Florist
If you're looking for a florist for funeral flowers, our team is here to help. We understand how difficult this time is, and we will be sure to make things as smooth as possible. Our experienced team knows how to respectfully manage funeral wreaths and sympathy flowers for funeral arrangements. Our florist funeral flowers can also be delivered. So, if you need to organise sending funeral flowers, you can rely on us. 
Flowers for all occasions
The flower boutique florists of choice, our talented and creative Skerries team can prepare blooms for all gift occasions, not just wedding and funeral flowers. Engagements, house warmings, anniversaries, get-well flowers; whatever the event, we have a bespoke bouquet of the freshest flowers that will be simply perfect! We also provide finishing touches, including chocolates, teddy bears, balloons, vases and cards. Creating the perfect gift is easy when this much choice is available. 
Contact the best florist in Skerries today!
For the best Skerries florist in Dublin, Ireland, contact our team. Whether you need to deliver flowers or you'd like to pop into our lovely store and choose something in-person (or make up your own beautiful bouquet), we look forward to helping you! 
Next Day and Same Day Flower Delivery in Skerries
Whether you need a last minute-gift for a particular occasion, or flower arrangement sent just to make someone's day across Skerries, or further North or South of the City, don't worry, Arbour Blooms can guarantee delivery to your recipient on the day of our choice, including the same day or the next day after you place your order. All you need to ensure is to place your order before 3pm on any particular day.
To order just search through our website for your desired floral arrangement, or give our team a call. They can be contacted at any time from 8:00 – 18:00 GMT 7 days a week to help with any queries you may have on WhatsApp, Phone, or Email.
Delivery Rates
Standard Flower Delivery €9.00 – Your Flower Bouquet will be delivered between 09:00 – 18:00 on your date.
AM or PM Flower Delivery €13.00 – Choose if your Flowers should be delivered in the morning or afternoon.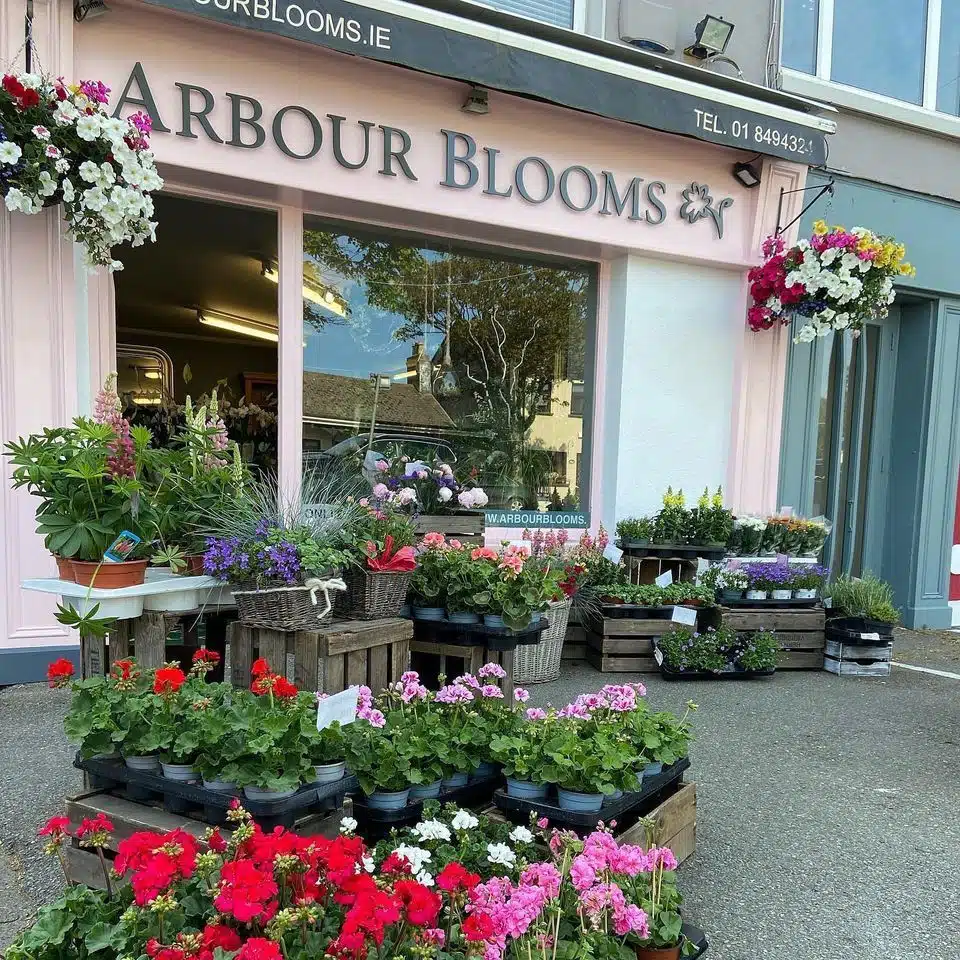 84 Strand St,
Townparks, Skerries,
Co. Dublin, K34 VW93,
Ireland
Use our hashtag #arbourblooms to be featured
Subscribe To Our Newsletter
Receive offers and learn what's in and out in the flower world.
Scroll